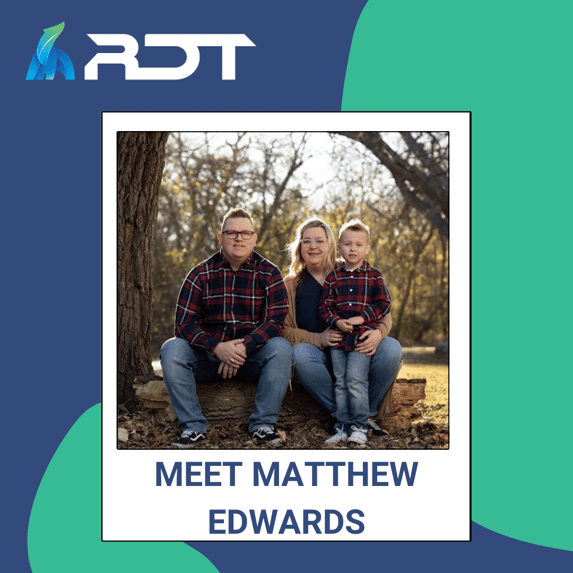 Matthew Edwards recently joined the RDT family as our new Project Manager. We're excited to introduce him and have him on our team.

We sat down with Matthew during his first few days on the job to learn more about him, both professionally and personally.
Tell us a bit about yourself. How did you wind up at RDT?
I came to RDT after a decade in the foodservice industry. I was the general manager for two restaurants over those 10 years and I handled every function from washing dishes to managing the entire operation. I was looking for a different opportunity and found it with RDT. Luckily I landed with a company that allows me to use all my knowledge that I've gained in the foodservice industry.
Do you have a favorite restaurant?
I would have to say that it's probably Texas Roadhouse. My family and I really enjoy it because it is extremely consistent, you always know what to expect when you go to eat, which a huge factor in a restaurants' success. You can go and have an affordable steak that is very good! Plus the hot rolls and cinnamon butter aren't too bad either.
What do you enjoy most about working at RDT?
The thing that stood out to me most is that while it is a growing company, it still has a very family first, family oriented feeling. I came in with very little refrigeration experience and the team around me has been instrumental in helping me assimilate into the job. I am surrounded by a great group of people that have made the transition easy. Everyone that I have met has gone out of their way to make me feel welcome!
What are some of your passions outside of work?
I am a huge Dallas Cowboys fan. Sundays during football season usually revolve around the Cowboys. I'm also a fan of all Dallas/Fort Worth area teams.
What is your go-to meal?
As I mentioned with Texas Roadhouse, my go to meal is probably a nice ribeye steak with some form of potato.
What is at the top of your bucket list?
I grew up playing soccer and I am a huge soccer fan so I want to attend a World Cup match. Preferably a match that the US is playing in but really any match would be awesome to attend. The World Cup Final would be the ultimate bucket list item for me.
The RDT Chill Team is full of great people, just like Matthew. We urge you to get in touch with someone from the RDT Chill Team for a comprehensive discussion on anything refrigeration, from trends to tips and tricks.