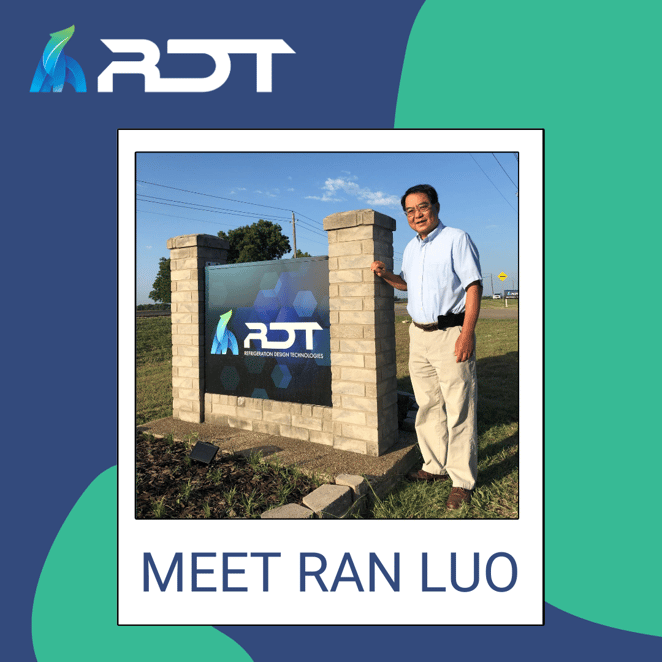 We have some wonderful new additions to the RDT family, and wanted to spend a moment getting to know them and introducing them to the world. Ran Luo recently joined our family as the newest senior design engineer, and brings lots of experience alongside him, as well as a fair amount of fun.

He began working at RDT a few months ago, and we have some questions that he was able to answer when we sat down with him for his interview.
Tell us a bit about yourself. How did you wind up at RDT?
I went to college for an engineering degree with refrigeration concentration. I started a refrigeration repair and installation business myself in the early 1990's. I found that it was a fascinating field, and enjoyed serving the foodservice industry.
I took a challenging engineer role in a major refrigeration equipment manufacturer in 1996, and have been staying in refrigeration application and design ever since. I have seen dramatic changes within the refrigeration business, along with technology advancements. I learned and grew with these changes in last three decades.
The Covid-19 pandemic not only re-shaped the world, it also re-shaped the refrigeration industry. People changed their working and living behavior, as well as lifestyle and eating habits. Unfortunately, some of the food service businesses are not able to survive and fortunately some are strong and grow in this world-scale re-setting moment. Refrigeration Design Technologies (RDT) is one of those companies built on a rock solid foundation. RDT has been known for high quality products, solid engineering design, and strong technical support in refrigeration industry. I was blessed to have this opportunity to work for RDT.
Why do you feel refrigeration is so important?
Food conservation and food safety are essential to human survival and prosperity. Refrigeration is essential to food safety for preservation. Refrigeration is not only for food preservation, it plays also an important role in pharmaceutical process, industrial process, and living comfort.
What is your favorite type of food, and why?
Texas BBQ is one of my favorite foods. I have been to several BBQ restaurants already and I found myself not only enjoying the food itself, but also the Texas culture as well. The people there are friendly, and the setting is less formal. The customers can enjoy good food there and can relax.
Where is your favorite vacation spots?
One of the beaches that has a fishing pier.
Are you a fan of any sports teams?
Tennessee Vols. Go Vols! Go orange!
To schedule some time with one of us, be sure to check out the RDT Chill Team for a comprehensive discussion on anything refrigeration.