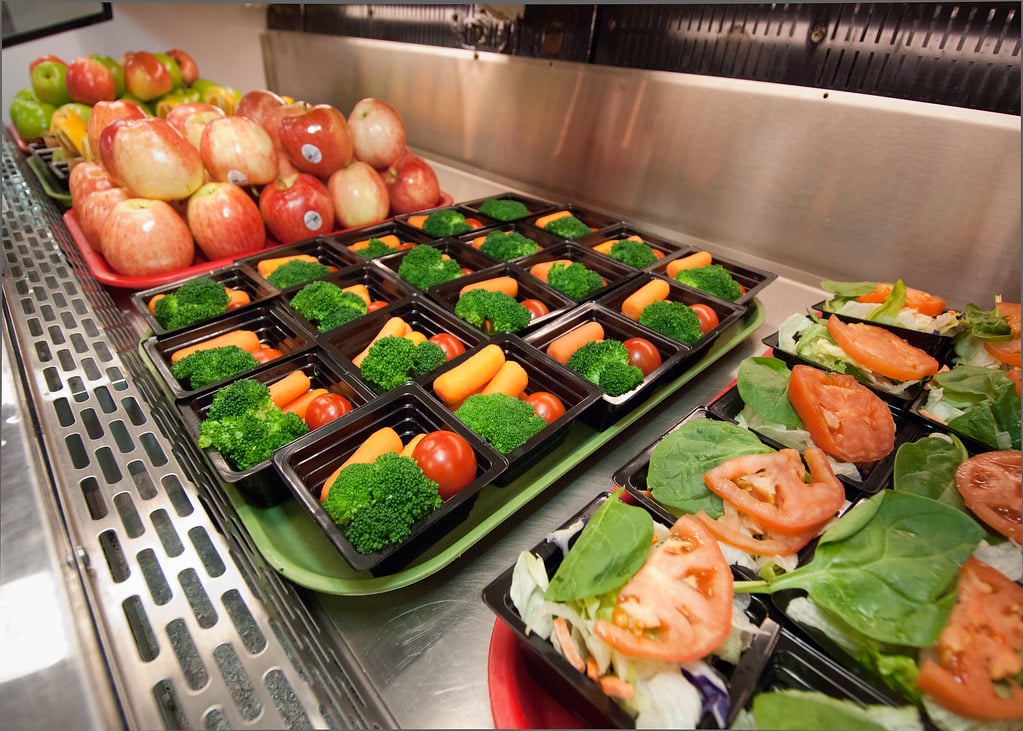 School cafeterias aren't what they used to be. These days, there's a major push to bring nutritious food to every child in America's K-12 school systems, but with these efforts, there is the daunting task of keeping costs to a minimum and serving food that kids will eat -- all at the same time.
Many public schools find their food service budgets to be one of the sore spots that impact their financial bottom lines. To meet the challenges of serving more children healthy and delicious foods, there are a number of schools and private companies that are rolling up their sleeves and taking on the task head-on.

Facts and Figures
The School Nutrition Association published statistical information showing that as of 2018, 29.8 million students were served a school lunch each day. Further data shows that 22 million of those students eat either a free or reduced-price lunch. That's also not including the over 14 million breakfasts that were served each day in schools. That's a lot of hungry mouths to feed in the most efficient way possible.
The word hungry is an understatement. Feeding America states that one in six children may not know where they will get their next meal. With data like this, the initiative to provide a nourishing breakfast and lunch to children each day is a dire need and not a privilege.

Efficiency is Key
With the need to feed as many children each day as possible a driving mission, schools seek to be as efficient as possible. Foodservice Equipment and Supplies discusses that more school cafeteria kitchens are using ventless equipment and adding ovens and toasters closer to the serving area to prevent extra steps and wasted time. Pass-through refrigerators and heaters are used to eliminate steps and get food items closer to where students will be served.
In addition to equipment for the purpose of efficiency, it's also important to present menu items in a marketable way. Students need to be drawn to different food choices that may be healthier. Presentation is everything when it comes to enticing students to make a healthy choice. The equipment used to accomplish this plays a huge role.

Making the Menu Pop
Vendors that sell to school cafeterias are well aware of the shift to draw more students to eat school breakfast and lunch. There have been greater efforts to bring in different cultural food offerings using different ingredients, but menu diversity isn't the only challenge. In fact, it's not even the biggest. Balancing healthier ingredients options with tasty food is always the objective.
Tara Fitzpatrick with Food Management writes that celebrity chef Jet Tila participated in Schwan's Chef Collective that seeks to bring more innovation to school cafeterias. Chef Tila has brought a number of Asian recipes to school cafeterias, remarking that school children are actually very adventurous eaters. Other companies that specialize in food service for K-12 schools have caught the innovation bug as well. They have begun to offer more nutritious, gourmet-looking menu items that students are anxious to try. Don't always assume that a student won't eat something, when in fact, they often are eager to try it.

The Cafeteria Environment
When you blend an innovative and well-planned menu with the most efficient use of equipment and space, a school can be set-up for success to nourish more students that statistics show desperately need adequate nutrition. With the right equipment and practices in the kitchen, schools can feed more students without increasing staff.
Don't discount the importance of presentation either. Students have to see appealing food options that are quick and accessible. No one likes waiting in long lines, so using space efficiently to quickly serve students means that more students will come through the line instead of going hungry. With these changes to the cafeteria of any school in place, schools and students will be set-up for success this school year.
Don't forget about the importance of conservation.
Yes, this certainly includes reducing food waste, but it also means reducing the consumption of other valuable resources like energy. With such a slim margin for error in terms of budget, having equipment that can reduce energy consumption can be a valuable asset to both the financial books and the students.
At RDT, we can help you reduce energy consumption. To find out some energy-saving ideas, feel free to schedule an energy study with one of our experts today.