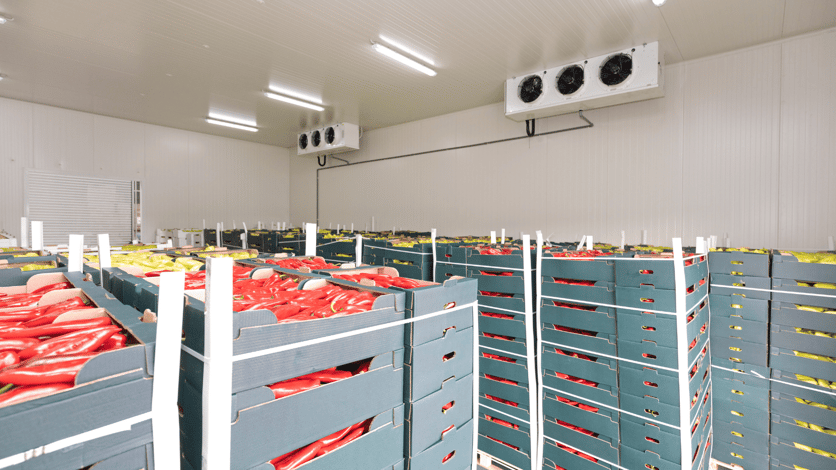 Food quality is highly dependent on proper storage climates. Temperature and moisture levels must remain within an ideal range for food to stay fresh, delicious, and safe to eat. Overly-warm and moist conditions encourage the growth of microorganisms in food. And when an item becomes contaminated, it can also quickly spread to the food stored around it. On the other side of the coin, some foods can be destroyed by being kept in conditions that are too cold. The proper temperature and moisture levels are crucial to food storage.
What's the Source of Cold Storage Climate Issues?
There are a number of reasons food can spoil from the surrounding environment, even while it's kept in cold storage. The international food trade is expanding, and because of that, more and more food goes on a long journey before reaching consumers. Increased time spent in transit increases the opportunity for problems to arise. For example, a door to a cold storage system could get left open during shipment, allowing conditions to warm up beyond safe levels.
Moisture is also a top culprit of food waste. Too much moisture often accounts for unwanted frost and ice build-up, which leads to food spoiling. Food may originate from or travel through high moisture geography areas. Or perhaps the ultimate destination for the food is an area of high moisture. Even though the food may be kept in cold storage, refrigeration systems are not impervious to the surrounding climate of a region. Refrigeration solutions need to take these potential issues into account.
Decrease Moisture and Ice Inside, While Delivering More Product Outside
The price of operating a commercial refrigeration system is a hefty portion of any foodservice company's budget. Steps should be taken to control associated utility bills.
A lot can be done simply by properly managing employees who access cold storage units. One cost-effective technique is to reduce the number of employees that enter walk-ins. Businesses can also be sure to explain to employees that leaving doors open for extended periods increases cooling costs. Employees can also be given specific times to enter walk-ins, and multiple tasks to achieve when doing so.
It's important for the foodservice industry to save on food waste as much as possible. It's better for the environment, and it's better for marketing and bottom lines. Waste tracking and analytics are one practice to help reduce food waste. There are also tax incentives businesses can take advantage of. Donating viable, but unneeded food to charities and food banks is great for the community and helps businesses, too.
What If You Could Remove Moisture Before it Enters Your Cold Storage?
The best way to reduce food waste is to prevent moisture and warm temperatures from ever entering the equation. For that to happen, innovative cold storage systems are a requirement. Being an industry leader in cold storage solutions, RDT has developed different options to address these challenges.
As the name implies, RDT's Eco-Smart Series was designed with energy savings in mind. The on-demand defrost system is perfect for controlling moisture damage. Eco-Smart's remote monitoring and alarm capabilities give businesses round-the-clock control of their cold storage systems from anywhere in the world. Considering how quickly food spoils, this feature alone can have a major impact on food storage budgets, easily sparing food inventory from potential disasters.
Find out more about how Eco-Smart can help your foodservice business - click below to start.