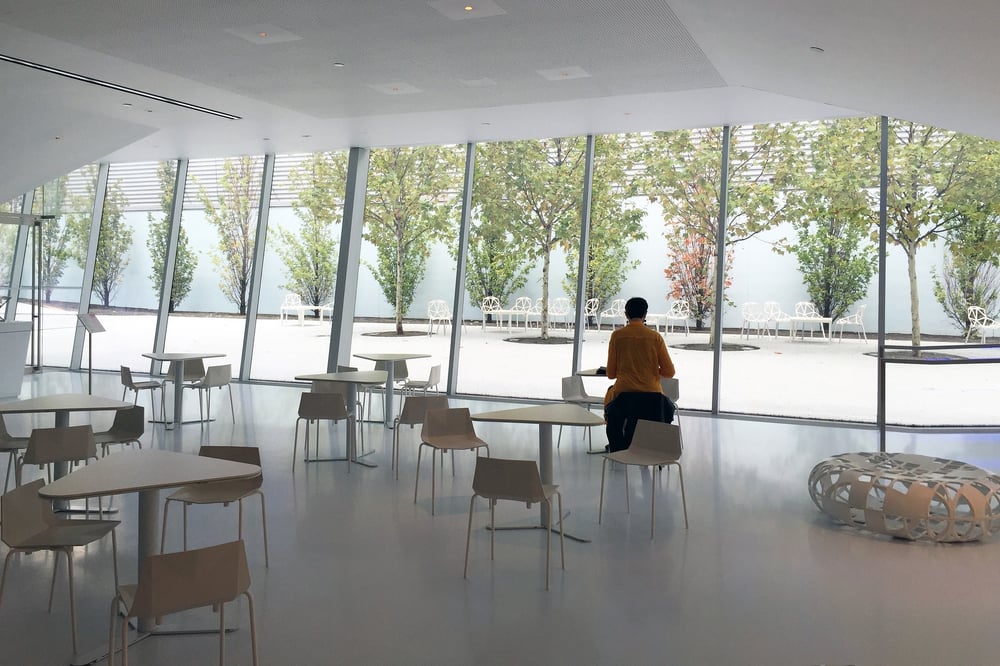 Over the course of our lives, the average American will spend roughly 90,000 hours at work. Put another way, we will spend nearly a third of our entire lives on the job. When you combine this with other facts like 80 percent of Americans are dissatisfied with their employment and a quarter of us say work is our number one stressor, making the workplace as comfortable as possible can be critical to a company's success.
Corporate foodservice is an essential perk that any business can provide to meet those ends, but as we look to the future -- specifically, as we look to the likes and dislikes of coming generations -- companies may want to look at workplace comfort from the perspective of hospitality.
What is hospitality? How does it relate to service? These two things are closely linked, but an interesting way to look at service is it's something that's done to us, while hospitality is the way those things make us feel.
If a company provides free childcare on site, that service is something the employee will need regardless of where he or she finds it. The real question becomes, how does that service make the employee feel? Is a mom happier coming to work every day knowing her son is just downstairs? Does it make a dad's life easier knowing he doesn't have to drive across town at the end of the day to pick up the twins?
Hospitality is creeping into all aspects of our lives at the same time labor shortages are increasing. Workplace hospitality is a way to attract and retain the best employees by viewing them as valued guests, not just staff. What might a hotel offer? Things like salons, workout facilities, drop-off laundry service, and of course high quality foodservice options.
Just like hotels, it's beneficial for companies to keep their guests or employees on property. For hotels that means higher profits, but for corporations that means enhanced productivity with greater opportunity for employees from different areas of the business to collaborate and communicate. This is the exact reason why Google created micro-kitchens in areas of the office that border two unrelated departments that may not typically talk.
There are a few things corporate dining operators should know as they look to become more hospitable in the future.
As detailed in a recent FES Magazine article, work habits are changing. This means office space is changing, as well. As more and more employees work from home or in virtual offices, traditional office space is changing, as well. In fact, it's shrinking. This means operators need to do more with less space.
High quality hospitality is also important. Building owners that service multiple companies need to keep those spaces filled in order to remain profitable, and an easy way to do this is by offering high-quality amenities like foodservice. You're much more likely to attract a prized tenant if you have a third wave coffee shop on premise versus one that's in another building down the street.
Finally, technology and changing demographics are critical. Millennials and Generation Z grew up studying and working in coffee shops, so why not create workplace environments that simulate a coffee shop? Today's most modern corporate cafeterias aren't even really cafeterias. If you're looking for an empty four top, you're probably out of luck. If you're looking for comfortable seating with charging stations and work spaces, you'll be much more likely to find something that looks similar to current and familiar working environments.
Creating modern corporate foodservice environments is also challenging.
How can we be as hospitality-driven as possible with such limited amounts of space? How can we stay on top of food and beverage trends that will make our employees happy and keep them on property? How can we operate refrigerators in the middle of the workspace without crowding other important features out? How can we be as energy efficient as possible in order to save money?
Learn more about the refrigeration solutions ideal for corporate foodservice and workplace dining. Sign up for a free one-on-one webinar with one of RDT's refrigeration experts.