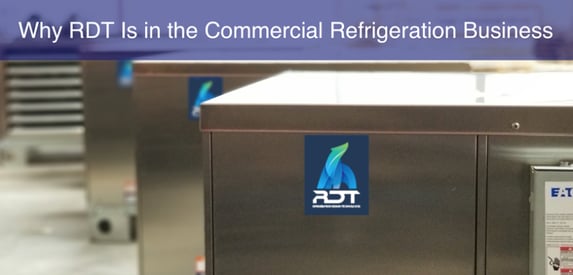 Everyone has a story, even companies. When we look back, we discover the reasons we do the things we do. We think about the people who helped us along the way, and we realize everything leading up to this point had an impact on us actually getting here. This applies to our success as individuals and as a company.
Here at RDT, it's no different.
It all started with our founder, Randall Dyess. Randall was a service technician working on commercial refrigeration systems in the state of Texas. Through brutal summer temperatures, he saw first hand how so many foodservice operations were not operating in ideal conditions.
He realized the issues usually came down to engineering, and there were typically design flaws in so many of the commercial refrigeration solutions available on the market at that time.
"Dad saw the flaws in other units, and he created his own solution," current RDT President and son of Randall Dyess, Brent Dyess said.
As a result, the elder Dyess, set out to start his own company, RDT, to create quality refrigeration systems. He became a pioneer in building rack compression systems.
He did so at the urging, insisting actually, of a prominent foodservice consultant who wanted Randall to begin manufacturing his own systems instead of modifying and improving on what was available at the time. The company's founding was the origin of consultants relying on us to provide the best.
What are the RDT Advantages today?
We are still a highly engineered product.
Designed from a life of learning and implementing best practices, our solutions have the ability to tackle difficult challenges that so many of our competitors can't provide. Consider Eco-Cool. When you can add redundancy while eliminating compressors, cut energy costs in half, and reduce the amount of coolant needed, it's all in the engineering.
We're still pioneers.
Even though we've figured out so much about engineering a better commercial refrigeration system, we're not stopping there. New innovations are available all the time that can help us better our system to make your foodservice operation more efficient. At RDT, we're committed to finding these new innovations, and then implementing them on behalf of all our loyal customers.
We're still family.
RDT is still a family business. We value personal relationships and make sure each and every RDT customer gets the first class treatment they deserve. If you're one of our current customers, thank you. If you're thinking about it, we'd love the chance to talk with you about how our solutions might help.
If you're ready to learn more about saving money with your commercial refrigeration join us for a free commercial kitchen refrigeration webinar with one of our friendly experts.