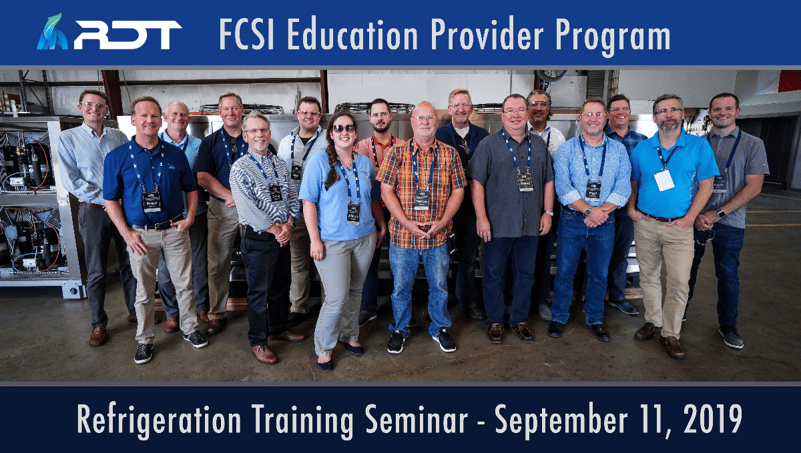 Record-breaking attendance, enlightening industry discussions, and even glow-in-the-dark bowling.
If you happened to miss out on the 2019 FCSI Education Provider Program's Refrigeration Training Seminar held at RDT's factory in Waxahachie, Texas, check out this short video recapping the event:
What is the FCSI Education Provider Program?
The FCSI Education Provider Program "plays an important role in establishing relationships that ultimately lead to supportive future involvements amongst consultants and manufacturers." Not only that, this program makes it easy for consultants to earn their required CEUs and gives them the opportunity to get to know our company (and the people behind it) on both a professional and personal level.
Refrigeration Training Seminars with RDT
This annual training seminar, held by RDT in our headquarters in Texas, brings foodservice consultants in from near and far for two days of learning, professional development, and a little bit of fun. The seminar is an opportunity to educate these consultants on foodservice refrigeration and also get a peek behind the curtain during our factory tour to showcase the technology behind refrigeration systems, like our Eco-Cool system.
Our goal is to provide foodservice consultants with the knowledge they need to better assist their clients with refrigeration projects, through hands-on, up-close interactions with our refrigeration experts and the equipment they helped design.
Perhaps the most rewarding part of this two-day event, however, is the time we spend with consultants before the training. This year, we enjoyed a fun-filled evening of bowling, great food, and even better conversations. When these consultants take the time to travel to our factory and meet our RDT family, we want to treat them as if they are a part of it.
These refrigeration training seminars are always one of the highlights of our year. Check out our recaps from 2017 and 2018 to learn more. If you haven't joined us yet for one of these events, we do hope you'll consider visiting us in February 2020!
If you're a foodservice consultant looking to learn more about commercial refrigeration, sign up for a free one-on-one webinar with one of RDT's refrigeration experts!