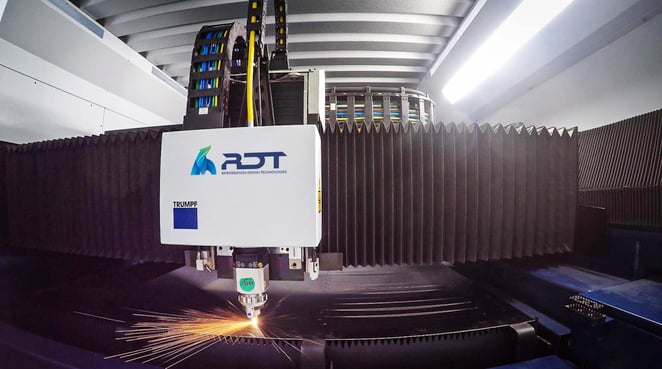 All of us here at RDT are always looking for exciting ways to grow. We've recently shared our newest staffing additions as well as the story behind our new logo and brand. Our newest addition may not be in human-form, but rather a new technological investment of a brand new fiber laser that was delivered at the beginning of the year.

Let's take a look inside the warehouse:
Making the items like the Eco-Cool, Eco-Smart, RDMC, ZS, parallel, and water-cooled systems requires years of expert engineering to dream up, rigorous testing, and then manufacturing. One of the most recent additions to our manufacturing team is a sweet new laser, made by Trumpf, that was delivered to our factory in January. We welcome this new addition because it is just another step forward to ensure that our clients are getting quality products, and that our staff team has all the best and most technologically advanced methods to deliver that quality.
Why is this important?
Our brand new, state of the art fiber laser will ultimately improve the product by using a superior piece of machinery. A large nitrogen tank was installed to assist the laser, and the man-power that it takes to operate the new laser is minimal and efficient. Pieces can be cut quicker, and much more precisely.
Additionally, the time spent between the cuts will be drastically reduced; there isn't a need to stop and de-bur the finished materials in between the cuts or clean the unit extensively.
Quality is important to us, as is efficiency. All of us at RDT are always looking for innovative ways to improve, whether that means being an industry leader in refrigeration controls, engineering, design, and also manufacturing. Every single product that RDT makes is proudly stamped with our logo, and we want you to know that logo and brand means you're invested in that quality right alongside us. We're thrilled to invest our time, space, and resources to this brand new laser that is able to step our production capabilities up a notch (or 5.) While the difference may not be noticeable to the average consumer, we know that investing in this precise fiber laser is an exciting part of our journey that we began over 50 years ago. We hope that you'll share in our excitement, as well.
See it in action:
No matter what your refrigeration needs are, we want to help guide you along your decision making process. Sign up for a completely free refrigeration review to kick it all off.