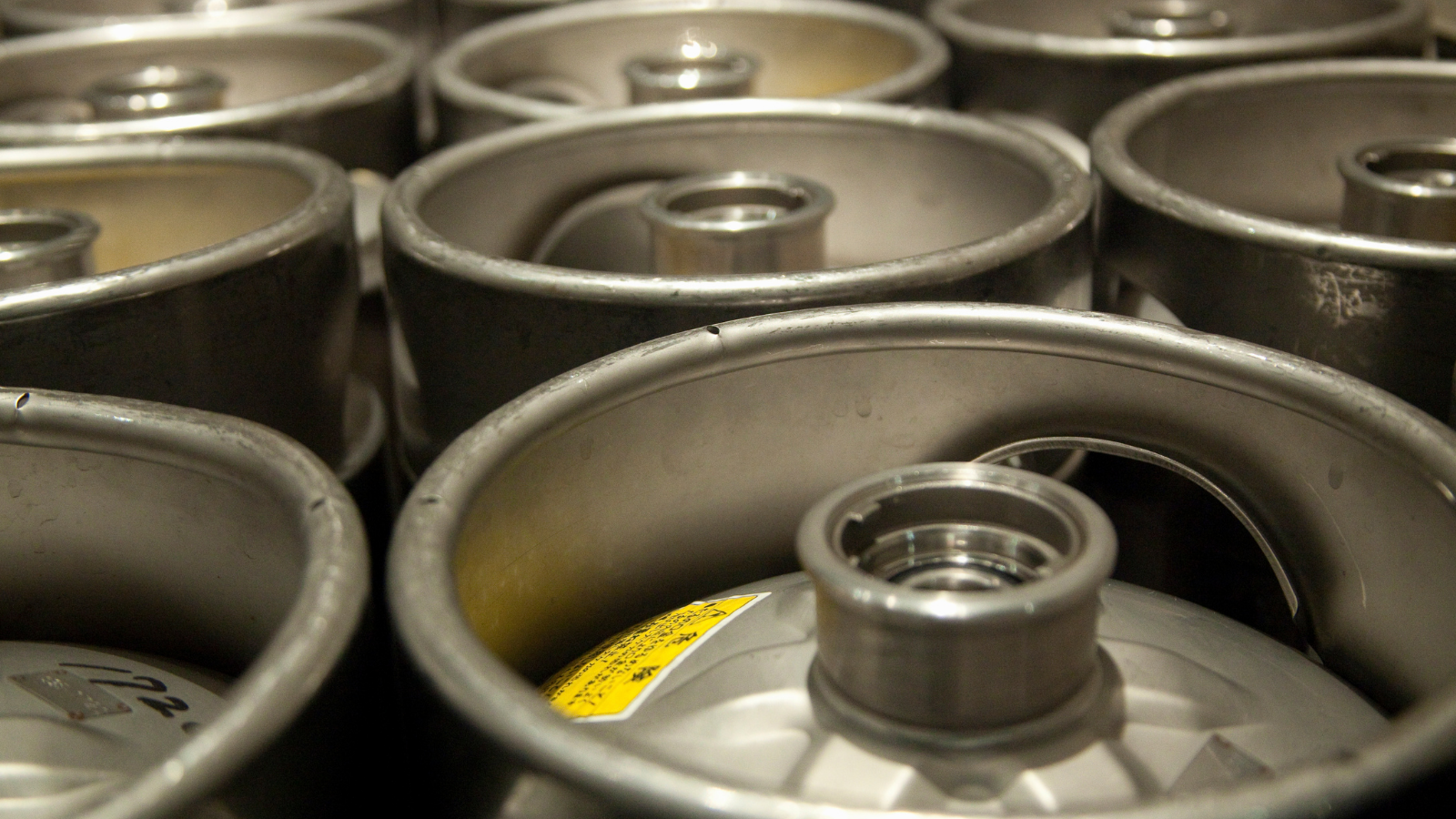 Whether a classic keg of suds or something more progressive like kegs of cold brew coffee or kombucha, kegged beverages can turn bad or create safety risks if not stored properly. Even though some operations will try to store kegs in a food cooler, it's ideal to create a separate walk-in for storing kegs.
Some of the reasons why it is a good idea to have a walk-in cooler for your kegs include:
Typically, food is stored at 35 degrees, but kegs need to be stored at 29 degrees. Even a few degrees can make a significant difference in the quality and shelf-life of your beverage.
There are situations where kegs arrive warm, about 70 degrees, and they might need to be brought down in temperature very quickly. This may require an efficient refrigeration system to get them down to the right temperature quickly.
Constant traffic in and out of a food cooler means temperature fluctuations, and this can negatively impact the storage of temperature-sensitive kegs.
Clearly, it is a good idea to have a walk-in cooler for your kegs, but what are a few factors to consider?
Refrigeration Size
Think about how big your cooler should be. How many kegs do you go through on a regular basis? How many kegs will be stored in the cooler at any given time? If you think your establishment is going to grow in the near future, you may want to plan for a walk-in cooler that can scale as your company grows.
The Quality of the Flooring
You also need to think about the quality of the flooring material you use. Kegs are extremely heavy, and floors need to stand up to this type of wear and tear. If floors are damaged, it will not only hurt the value of the cooler but could also impact the ability of your cooler to keep your kegs at the right temperature. Use floors that have plenty of grip so people do not slip and fall when they go into the cooler.
Airtight Doors
Airtight doors are money-savers, and they're arguably one of the most important aspects of a walk-in cooler. Doors need to trap the cold air to keep the kegs at the right temperature. Furthermore, make sure the doors form an airtight seal quickly so when they're closed, conditioned air will not leak out.
Strong Panels
Panels should be strong and durable enough to stand up to routine wear and tear but also have enough insulation to maintain the temperature of the cooler. Look for panels that form an airtight seal to protect the quality of the kegs. A dense, urethane core that will keep the kegs fresh is desired.
Use a High-Quality Refrigeration System
The final part of the equation is the refrigeration system that creates the cold air within the walk-in. Ideally, operators want built-in redundancy in case one compressor goes down, and a world-class system can help store any type of kegged beverage at optimal storage conditions in order to maximize profits.
If you're looking for help on how to build out that system, our Chill Team can help. With multiple years of experience designing state-of-the-art systems for beverage-specific operations, booking time with a member of our team is a great way to gather the information you need to help create the ideal keg storage solution. Book time with the RDT Chill Team today.